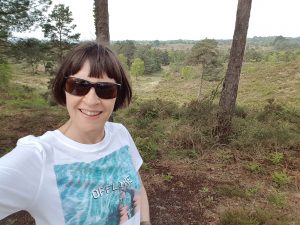 by Sally Northeast
After what can only be described as a whirlwind week for Comms Unplugged I finally have time for a bit of reflection on what's happened.
Because, ironically, Mental Health Awareness Week – a time when we all think about our mental health and that of people around us – could almost have been described as stressful!
With wellbeing at the heart of our purpose we were always going to have lots planned for this week. But it was only when our Georgia put together a brilliant Twitter thread setting out what was happening each day that I realised how much we had on.
Announcing our keynote speaker and other activities for our main event in September, running a Twitter chat on mental health in comms with the lovely Leanne Ehren, releasing our May podcast episode AND running three regional taster sessions (for the first time) in the North, the Midlands and Wales…..I'm exhausted just typing all that!
All that, I might add, is on top of the day jobs of both #teamunplugged and the amazing #unpluggers who so enthusiastically support everything we do.
So am I totally frazzled at the end of such a week? Well, I'm certainly tired but at the same time I'm completely energised and even more confirmed in my belief that what we're doing is the way forward.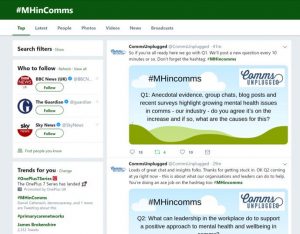 For the #MHinComms Twitter chat the numbers are useful: 850 tweets, 150 active tweeters, 3000 following the convo. But what really speaks to the relevance and need for things like this is the incredible range of heart-felt, personal stories, the generous sharing of tips and techniques, the mutual support and care for each other. All this on Twitter, a platform often known for the anonymous carping, whingeing and insults it attracts.
These tweet extracts give you an idea:
"I think that conversations like this on Twitter are a huge help. It legitimately helps my own mental health to know that others are dealing with the same issues."
"#MHinComms has been a rip-roaring yarn this evening. We have quite a movement out there."
"I don't know about the rest of you but I had no idea #MHinComms would be as big as it is."
We've been calling Comms Unplugged a movement for a while and this chat – in all its glorious diversity, warmth, intelligence – confirmed that. The fact that people were surprised at the levels of engagement shows we've been bottling it up and needed to pull out the stopper!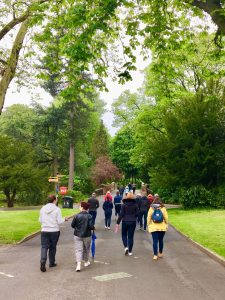 And what we've been trying to do is provide some practical ways that people in comms can take the time they need to focus not just on their wellbeing, but also on their learning and that all-important skill of really connecting with others. It's probably the most useful thing we have in the toolbox as communicators and yet how often is our connecting now remote or virtual, through a range of devices and on impersonal platforms like email.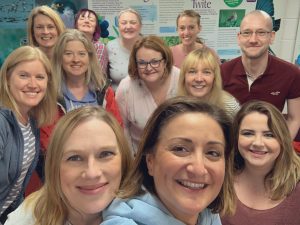 Fast forward to Friday of Mental Health Awareness Week when three teams of original unpluggers were leading taster sessions in lush green settings around the country. We were aiming to give people a flavour of our main event in September. But it was also about just giving people time, and helping them to give themselves permission (important!), to focus on their wellbeing, their learning and some problem-solving. Crucially, it was about connecting, face to face, without the distraction of all that useful, but dominating, technology we now have.
It's not a complicated idea, but it's all too easy to forget to give yourself that time, to claim that you're 'too busy'. A few comments on Twitter following those tasters say it all:
"It was genuinely brilliant – felt really looked-after and there was a lovely cameraderie between everyone….interesting, inspiring, inimitable. This is how work should be!" (Wales)
"From here on I'm going to take more time to do the things I enjoy with those I love. Thanks to…..Comms Unplugged for creating the environment for much-needed reflection." (Midlands)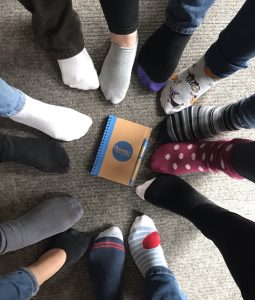 "Who'd have thought a couple of hours outdoors with some fab #unpluggers would prove so creative? Really enjoyed the morning Comms Unplugged and came away with great ideas as well as feeling great." (North)
Georgia, Darren and I, along with Leanne, have been blown away by the response to our activities this week. It makes us even more determined to keep this thing going, bring more people into our #unplugged family and work to find new, creative ways to support people with wellbeing, learning and connecting. These are the things that make life enjoyable and that we should be calling on to help us achieve that balance we're looking for.
If you'd like to find out more about Comms Unplugged 2019 just have a mooch round the website, tweet us or email commsunplugged@gmail.com. Everyone's welcome.
Comms Unplugged is a retreat for communicators, focussing on learning and wellbeing in the beautiful Dorset countryside with no wifi and no tech. Join us from 5-7 September 2019 – tickets available now.
Sally Northeast is Deputy Director of OD, Participation and Communications for Dorset HealthCare and 1/3 of the award-winning #teamunplugged, creators of Comms Unplugged.
— Sunday 19th May —