By Sally Northeast, co-creator of Comms Unplugged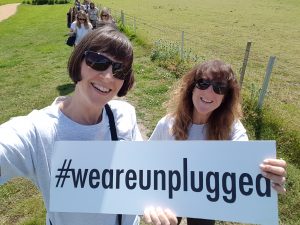 For #teamunplugged – that's me, Georgia and Darren – Comms Unplugged is the project that keeps on giving. It seems to fuel us and our growing gang of unpluggers to come up with loads of creative ideas to try something new and different. One month we create a new podcast, the next we establish a scholarship to crowd-fund places in our event field for people who couldn't otherwise get there.
This year's been a-buzz with ideas and shiny new stuff, not least the notion of taking Comms Unplugged on tour. After five fantastic taster sessions around the country (you can read about them in a series of blog posts) there's a lot to mull over. So here are 11 things I've learned, or been reminded of, as a result of taking CU on the road for 2019.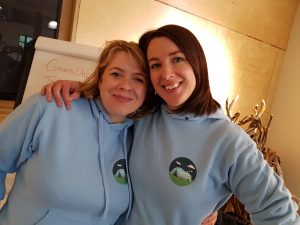 Advocacy is a powerful thing: When we asked some of our original unpluggers if they'd like to run regional sessions they all jumped at the chance. As the dates drew nearer some nervousness and self-doubt crept in amongst them but they needn't have worried – they were all brilliant! Why? Because they totally buy into and believe in what Comms Unplugged is all about. As my co-organiser Georgia said to them: "You ARE the brand." Strong advocates are the best thing you can have when you're trying to get people on board.
Face to face is king: With today's rich smorgasbord of tech it's incredibly easy to connect with people online, wherever they (and you) are. It's a great way to kind of 'get to know' people but nothing beats the bond you can form with folk in person, especially on a lovely wellbeing walk in the fresh air. The online hook-up might be the starter but the main course is definitely the 'in real life' connections. Dessert is, of course, cake (see no 11).
There are no new problems: Everything you're wrestling with at work as a comms person has been experienced by any number of your peers. And when you get together with like-minded people and share your challenges they seem more manageable and the problem-solving begins, with new perspectives galore to help you navigate through.
We're all in it together: Given a bit of breathing space and the chance to connect properly in person, the comms crowd are such a supportive lot, with empathy in spades to help their colleagues through the tough times. Despite many taster attendees not knowing each other before the events, they were soon finding things in common and making friendships which will last beyond that first meeting.
If you build it, they will come: What we do with the tasters isn't rocket science, we know that. So how come it doesn't happen anyway around the country? It seems that people need a catalyst, which is what Comms Unplugged has become. When people see something's been organised and there's a focus through an event like this, they're in. But they might not have thought of doing it themselves. We're so pleased we can provide the building blocks that help people connect with each other.
We're looking for permission: Isn't it odd – and actually a little worrying – that we feel someone needs to give us permission to incorporate wellbeing practices into our working lives? Whose permission are we seeking to turn off our phones for a couple of hours and get some headspace? In fact, we're often our own worst enemies – because actually the permissions sits with us. Go on – give yourself permission to shut out the noise, even for a short while.
We all need to press reset sometimes: As comms people, many of us feel we need to be always on, cheer-leading like mad, staying positive in the face of adversity and just generally injecting energy into our organisations every minute. But when do we restock that energy if we don't give ourselves that much-needed time to rest? Our roles are full-on, and we love them, but we can't keep going ad infinitum without pressing the reset button regularly.
The great outdoors is all around: Say what you like about British planning law (local authority bods, I feel ya!) but it does at least make provision for green spaces even in the most built-up areas. You don't need to live or work in the sticks to find somewhere you can walk among the grass and the trees, or beside a lake, river or sea. You may not even have discovered your nearest 'green lung' but it's waiting for you – go find it.
Rediscover your human roots: As human beings we're not designed to be in boxes all day but that's where we've ended up in the modern world. We live in a box, travel in a smaller box to work, spend our day in that box and then do it all in reverse. Our roots are outside, in nature, and that's why it feels so familiar deep down when we take the time to get back outside and breathe.
Trying something different is good: With our main event, and to some extent our taster events, some people have struggled to understand what it is. And yes, it is a bit different as a work thing because it combines professional learning, personal development and wellbeing. But think about it – all those things make you a better practitioner, so why wouldn't you combine them? If you do what you've always done, you'll get what you've always got. Time for something different to shake it up, no?
Cake: The root of the word companion is someone you break bread with. Take it one step further in a Marie Antoinette style and give people cake and the barriers fall away as we share the enjoyment of eating something yummy. Throw in some tea (OK, yes, and coffee if you insist!) and serve it up after a bracing walk in the fresh air and you have the makings of a very companionable morning or afternoon.
Huge thanks go to our amazing unpluggers for running these regional sessions for us: Saranne Postans (with Darren) in the Midlands; Josephine Graham and Helena Hornby in the North; Victoria Ford and Emma Northcote in Wales; Joanne Ford and Anna Maclean in Scotland; and me and Georgia in the South.
Sally Northeast is Deputy Director for Organisational Development, Communications and Participation at NHS trust Dorset HealthCare and one of the three creators of Comms Unplugged. You can snag your place in the field on our ticket page.
— Saturday 8th June —