By Sally Northeast
Necessity is the mother of invention. I like that phrase because what it means is that in times of need, in times of challenge we can be at our most creative. It's the way we humans are built – to adapt, to learn, to create, to change our world.
And in lockdown, boy have we seen that playing out all over the place. For me and two lovely friends from the unplugged community, this has manifested itself through the medium of music. It started out as an idea for a bit of webinar content and blossomed into the sheer madness you'll be able to watch below!
Now – full disclosure – I feel incredibly privileged to have worked on this little project with two such talented, proper musicians. While I've always had music as a big part of my life, I never stuck with an instrument (other than my own vocal cords) so feel very lucky to be part of TH!S, our brand new Comms Unplugged band.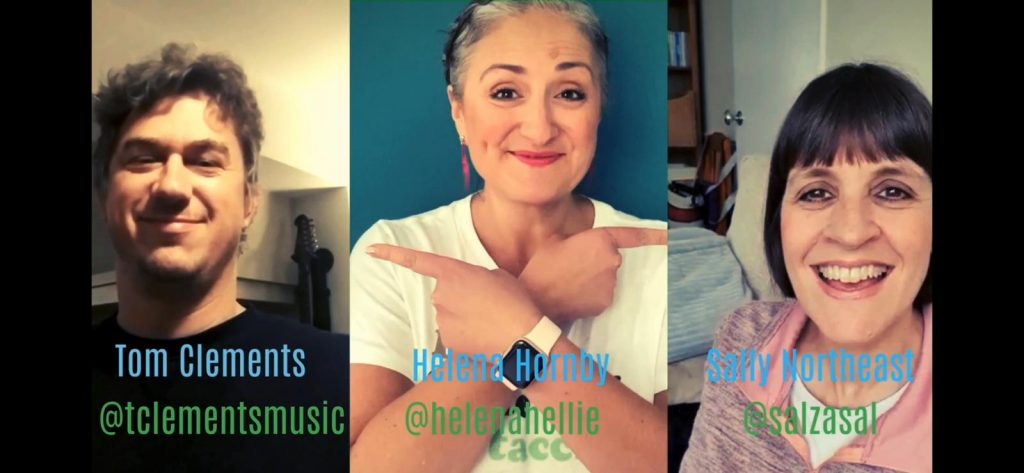 When I approached Tom Clements, legendary music man of north Dorset and house musician since 2017 at Comms Unplugged, and original unplugger, singer and saxophonist Helena Hornby, I wasn't even quite sure what we would be doing. But I had a feeling it would be a thing – and so it has become.
We bounced around some song ideas, I knocked out some lockdown-appropriate parody lyrics and we were suddenly working out how we could technically make this happen while in lockdown. Luckily Tom has a mixing desk and all the technical know-how and that's enabled us to pull together vocals, harmonies and instruments recorded on phones, iPads and PCs.
I love getting creative and these two have been the ones to do that with – problem-solving, collaborative, skilled, fun, optimistic and positive. All the good stuff!
It didn't take long for us to decide this 'masterpiece' needed a video so we all set off – separately in Poole, Milborne Port and Manchester – to record the clips that clever Helena would pull together in iMovie for the finished product. Add in some inspired graphic design by Alan Oram of Alive with Ideas and the support and love of fellow Team Unplugged members Georgia Turner and Darren Caveney and…..well….it's a wrap.
Helena sums it up with this: "Creating this song and video with Sally and Tom has been such good fun! Laughter and learning at every stage of the process, I've loved making music, filming and editing the video and spending time being creative. I am so proud of us!"
And Tom adds: "This has been a buzzing adventure with friends into a creative world of parody. My editing kit was in storage and just as they were announcing lockdown I went and got it out – good job too! I've really enjoyed getting back into it."
We've had such a fab time we're now bursting with ideas for more songs – maybe even some original ones too. Would we have decided to do this without the context of lockdown? I doubt it. Is there a silver lining here? Most definitely.
We hope you enjoy our first release – Lockdown Monday.
Tom Clements is a Dorset-based musician and guitar teacher and our resident Comms Unplugged music man – he's @tclementsmusic on Twitter or you can find his page on Facebook. Helena Hornby is an original unplugger, a Communications Officer at Transport for Greater Manchester and plays regular gigs with her band – she's @HelenaHellie on Twitter. Sally Northeast is a co-creator of Comms Unplugged, Deputy Director of OD, Participation and Comms at Dorset HealthCare and a frustrated performer! She's @salzasal on Twitter.
— Sunday 3rd May —