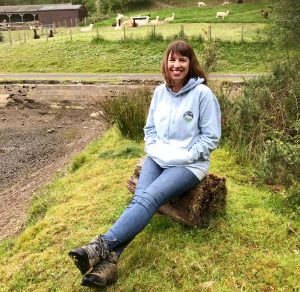 by Victoria Ford
Last week Em Northcote, Head of Communications for Dyfed Powys Police and I hosted the first Wales CommsUnplugged taster session.
The idea was to give people the opportunity to have a couple of hours away from the usual hectic pace of life to focus on wellbeing, do some problem-solving and meet new people. It was also intended to give those who may not have thought of coming to the main Comms Unplugged event an idea of what it is all about and what to expect if they did want to come.
When Sally, Georgia and Darren, the Comms Unplugged founders, asked us if we would consider hosting a Wales session Em and I were up for it straight away.  We knew we had got so much from our connection with Comms Unplugged and we were keen to share it with others.
Back at home, post-event, a few things have been running through my mind.  Here are my reflections.
The imposter syndrome never really goes away
Being quick to say yes when it was first mooted 6 months ago was one thing. Getting to the morning, prepared and ready to do the Comms Unplugged ethos proud, was another.  As with most things you worry that you won't meet people's expectations, worry you will let the wider team down, worry you are unprepared, worry it will rain (it did, but didn't make a blind bit of difference!).  Deep down I knew it would be fine, but the worry is always there. I've learnt that imposter syndrome never really goes away, and it is more common than you think. But the trick is to never let it stop you giving something a go.  In the words of AA Milne: 'You are braver than you believe and stronger than you seem and smarter than you think'.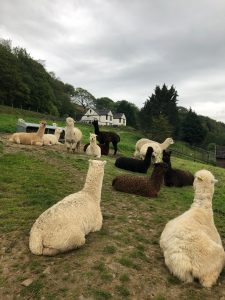 The moment when I knew it would be okay and the session would be great
After a coffee and intros we were ready to head off on our walk.  It had been a rainy kind of a morning, the ground underfoot was damp and a bit muddy.  As I stepped outside I heard one of the attendees saying to another she had only just met:  'I've got wellies in the car, of course you can borrow them'. Within minutes, spotty wellies on aforementioned lady's feet, we were all ready to go.   This moment took me back to the first Comms Unplugged in 2017 when, within minutes of rocking up in the field, people were helping each other pitch tents, sharing supplies and handing out camping survival tips.  Just as it was back then, that was the moment I knew it was going to be great.
Unplugging is a great leveller
As we did our intros and talked about our backgrounds it struck me how varied those intros were.  From those with just a couple of years' experience to those with over 30.  From those in their first ever comms role to Heads of Communication in large, complex organisations.  We were all there as ourselves, on a level footing, ready to learn from each other.    How it should be.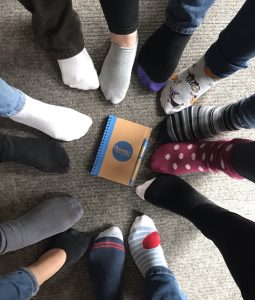 People can actually embrace new ways of doing things quite quickly
2 hours after we had all met, we were sat in comfy chairs, coffee and home-made cake in hand, most of us with shoes off (the walk had been muddy!) chatting through work issues and sharing advice.  I smiled to myself at the way that every single person in the room had embraced the ethos of the event, had given their whole selves to being present and involved and were chilled out enough to be sat in their socks!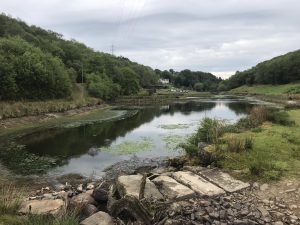 The Waterside Felindre is an amazing location – and it's right on our doorstep
When the idea of a Wales taster session was first suggested I knew that Waterside, Felindre would be perfect.  Their Twitter bio says 'WHERE CHANGE HAPPENS. When you care about what you do you want the right kind of space and people around you who will help you do your best work'. Just a couple of miles off the M4 and you feel like you have escaped to the middle of nowhere. A former reservoir, now a lake and valley, I could hear the birds singing, watch goslings pottering around the lakeside and smile at the alpacas with their curious natures taking in the spectacle of our merry band.  It is the perfect location to get away from it all – take a look at @WatersideFelind and @tribealpaca on Twitter.
I feel grateful to have had the opportunity to share some of the CommsUnplugged ethos and grateful to have met a new group of like minded people. Here's hoping we see some of you in the field in September!
Victoria Ford is a director of business transformation company Perago Wales, who are sponsors of Comms Unplugged since 2017. A committed #unplugger, she has vast experience working at a senior level in public and private sector communications.
— Monday 20th May —