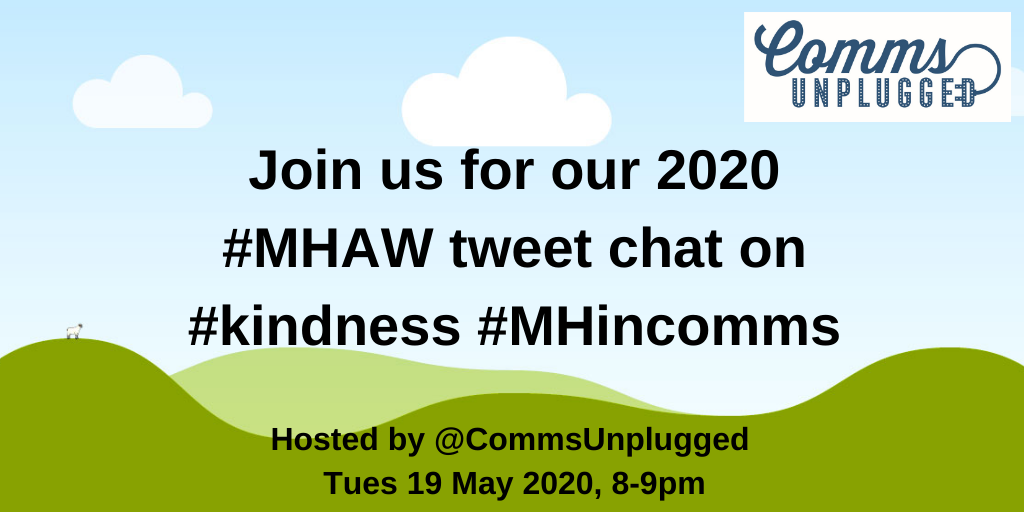 I still love a good Twitter Chat and they can still offer up brilliant engagement opportunities when done right.
by Darren Caveney
Last year Comms Unplugged ran a dedicated Twitter Chat for Mental Health Awareness Week (MHAW), led by leading mental health advocate, Leanne Ehren.
The chat exceeded the participant numbers we had originally estimated, with 850 tweets shared by nearly 180 contributors across the hour-long session. It proved to us that comms professionals really did want to talk about a subject that was virtually taboo in the industry just a few years ago.
So we're doing it all over again to mark #MHAW20.
What and when?
As part of a programme of dedicated events, support and resources Twitter Tuesday sees a Twitter Chat running from 8pm – 9pm on Tuesday 19 May under the theme of Kindness.
Join in the conversation to flag your experiences of kindness during COVID-19 – the good and the bad – and let's uncover the secrets to getting through this thing in the healthiest way possible by embracing kindness.
The questions we'll be discussing are: 
Praise – and criticism – can feel more extreme during this crisis. What is your experience?

Have leaders nationally and in organisations shown compassion and kindness during COVID-19?

How have you been kind to yourself to support your wellbeing during lockdown? Any tips?

What are the warning signs that your wellbeing is being affected? How do you 'take notice'?

How has kindness helped you or someone else during lockdown?
Follow and use the hashtags #MHinComms #MHAW20 and #Kindness.
See you on Tuesday evening.
Darren Caveney is creator of comms2point0, owner of creative communicators ltd and a co-organiser of Comms Unplugged
— Sunday 17th May —