Being online may not be very Unplugged, but laughter, support, yummy food, friendship and community are, as  is doing something differently. So we bring you the Comms Unplugged Summer Tea (dare we say 'Garden'?!) Party! Via Zoom….
We're keeping the spirit of Comms Unplugged, and in fact of summer itself, alive with an hour of chat, laughter, cake, tea and laughter. We're calling it the Comms Unplugged Summer Tea Party. With any luck, it'll take place in gardens, on balconies, in parks and courtyards all across the country!
Whether you've unplugged with us in our field before, follow us on social or just fancy eating some cake with a bunch of lovely friendly folk, everyone is welcome.
Our Unplugged Tea Party details are:
Fancy it? Here's the link!
No Summer Party is complete without CAKE! If you fancy getting your bake on, here are three recipes to try in readiness for your afternoon tea with us.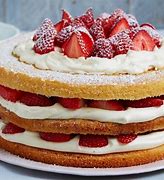 Fruit scones – obviously served with jam and clotted cream. Even our Georgia Turner can make these!
Victoria sponge – it's the perfect season to fill yours with fresh fruit rather than jam.
Gin, grapefruit and peppercorn eclairs – fancy something a bit different? Give these yumsters a go!
We look forward to seeing you on Sunday 9 August. 
— Thursday 6th August —