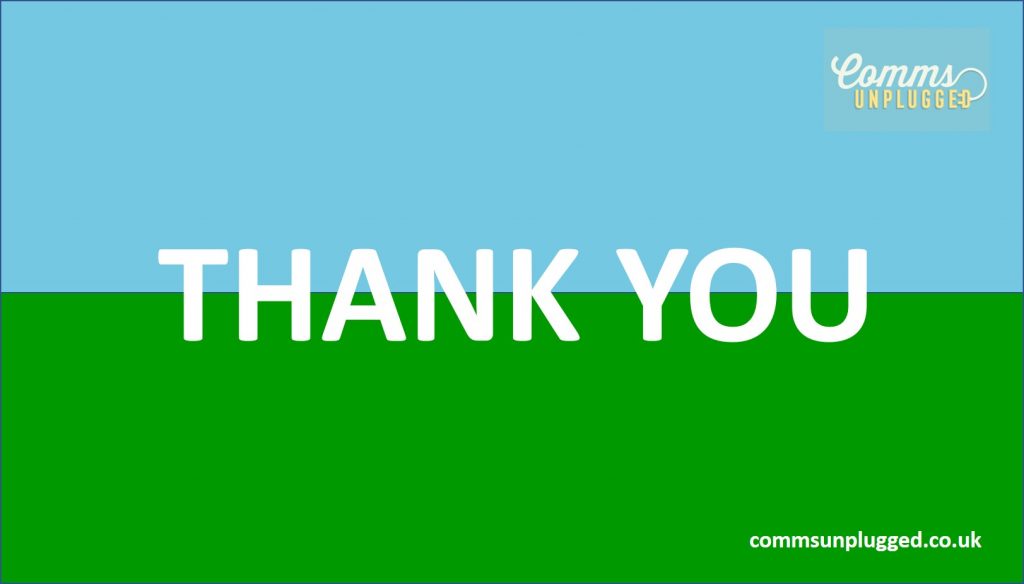 Comms Unplugged is completely not-for-profit and as a team we're committed to making the experience as accessible to the comms community as possible. But we are only able to do this because we have some special supporters.
I've been involved with a lot of events and start-up initiatives over the years. I've learned a lot from them all and I believe each has made me a better communications professional. But I still get a little bit nervous each year when it comes to time when I need to ask for support to make important, not-for-profit events such as the UnAwards fly. I'm a one-man band and can genuinely only run such events because I have been fortunate to have the support of great partners and sponsors. Some have been with me for six years now and that's a sign to me that we both get a lot from the relationships.
But as I say I still get a little anxious each time it comes to finding the all-important funding. I think it's that British trait about feeling a little awkward in asking for help and, more to the point, money.
So, when Sally Northeast, Georgia Turner and I took the plunge with launching Comms Unplugged in 2017 – with just 72 days to organise the lot from scratch before the first day began – we were really were indebted to the support of our original partners:
Perago who provide end to end business transformation services, leadership support and consultancy. Say hello at @PeragoWales
Fresh Air Fridays whose purpose is to positively impact people's wellbeing now and for future generations and influence wellbeing policy and practice.  Say hello at @FreshAirFridays
Alive with Ideas where marvellous ideas are born. Say hello at @AliveWithIdeas
And creative communicators (well that's me – I can't really thank myself can I 😊)
And we welcome new partners for 2019…
CAN Digital who generates income from digital advertising for local councils and public sector organisations, and help reach the right audiences with data-driven campaigns. Say hello at@CouncilAdNet
Granicus providing the most trusted email marketing platform for the public sector. Say hello at @GranicusUK
We're fans of the people behind all of these organisations but also of their products and services so can happily recommend them to our unpluggers.
But there is much, much more to our relationships than just sponsorship – the people who run these organisations get completely immersed in Comms Unplugged as attendees too, chewing the fat as regular comms people and not a sales pitch in sight.
If you would like me to connect you with any of them please shout us.
Support comes in many forms…
And support comes in many forms. The attendees who came along in 2017 and 2018 really made it a special experience, and spared us a very expensive few days in the field if none of them had shown faith in us and the event.
Comms Unplugged 2019
We're almost three quarters sold out now for September's event and we'll have some new comms pals in the field to connect with which will be a real treat.
New faces, new speakers, new wellbeing activities – new, new, new.
So, a huge thank you to all of our supporters – attendees and sponsors alike – who enable us to put on what I believe is the most innovative and fun communications and learning event you'll go to anywhere.
See you in the field.
Darren
WANT TO BE THERE?
Be quick because we expect the remaining tickets to be snapped up over the few weeks – you can secure yours HERE.
If you have any questions – or doubts – shout us at @commsunplugged or commsunplugged@gmail.com
— Monday 22nd July —