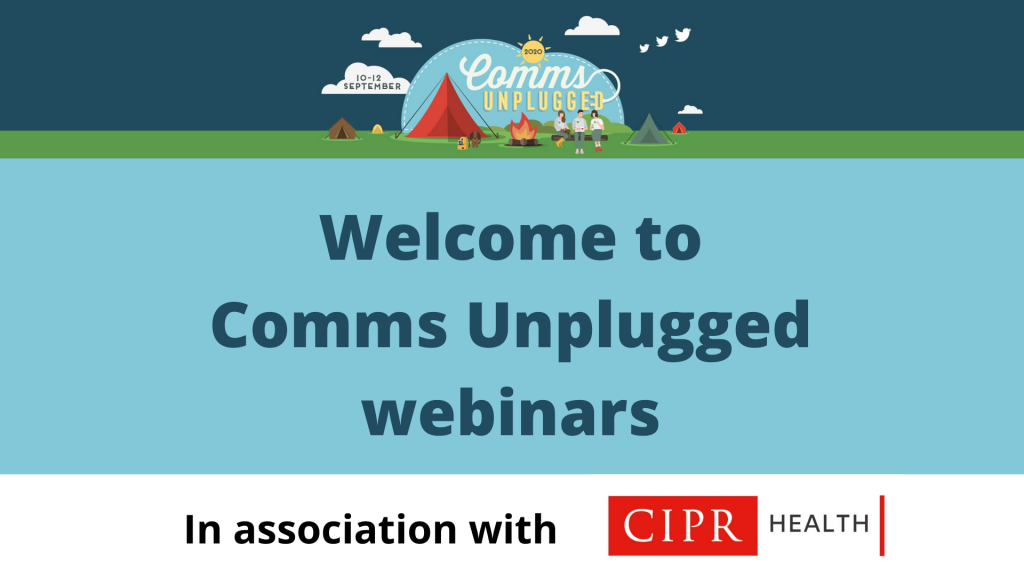 Make sure you're signed up for the second of three brilliant, all-new webinars with our partners CIPR Health Group.
by Darren Caveney
When we launched Comms Unplugged as a very, very different event offer back in 2017 – and genuinely wondering if anyone would turn up at a field in Dorset – we were very clear on what we wanted to offer. And it was this: a genuine split of professional learning AND health and wellbeing support.
As comms pros at the sharp end we felt that events should offer both and that mental health and wellbeing had to be taken more seriously by our industry and by our employers. So, as co-organiser Sally always says, courtesy of Gandhi, we decided to be the change we wanted to see. We launched the first Comms Unplugged. And some rather amazing people came and joined us.
Fast forward to 2020 and I don't think we fully appreciated how this issue would grow and need even more support and focus.
So we were delighted when the CIPR Health Group partnered with us in 2020 so that we could collaborate and do more to support colleagues in this space. Of course we hadn't bargained on a global pandemic. But we're all creative communicators, right?
So instead of running physical workshops we've switched to three webinars, free to attend and packed with new learning.
Webinar one last month was a sell out and we're expecting the same of webinar two.
So please sign up quickly.
What does webinar 2 have to offer?
For professional learning we have two sessions to tuck into:
Firstly, how and when we should approach recovery comms, as individuals, teams and organisations.
We have three outstanding communicators for a panel discussion on this. UnAward winners Julie Odams (assistant director of comms and customer services at Derbyshire County Council) and Donna Jordan (head of communications and engagement at Derbyshire Constabulary) who along with Derbyshire Fire and Rescue delivered brilliant crisis comms management on the Whaley Bridge incident last year.
And Amanda Coleman (who was head of comms at Greater Manchester Police during the Manchester Arena Attack) and author of the excellent new book – Crisis Communications Strategies.
All three have experience and ideas on how we can best address recovery comms – which of course will be different for different organisations – and how we can ensure we consider the wellbeing of our teams for a crisis that will continue to run long and deep.
We're also pleased to have CIPR President, Jenni Field, who will be sharing top tips and ideas on resources we can tap into to boost our own learning and development as the crisis continues.
There's more…
With a focus very firmly on the wellbeing aspect we'll be running a short yoga session – how many of us are getting neck and shoulder ache from prolonged home working? Our resident yoga teacher, Irena, could be your saviour.
And wildlife enthusiast and Unplugger, Joe Crossland will be running a fun session on birds and bird song. We've all noticed birds in our environments so much more during lockdown and this has sparked our interest in learning more about them.
Sound good and fun? Fancy joining us?
Sign up for the Comms Unplugged email HERE and we'll get an invite out to you.
I'm in – when is it?
It all takes place via Zoom on Wednesday 17 June, 8pm – 9.15pm.
It'll be great.
Look forward to seeing you there.
Darren Caveney is a co-organiser of Comms Unplugged, creator of comms2point0 and owner of creative communicators ltd.
— Friday 12th June —