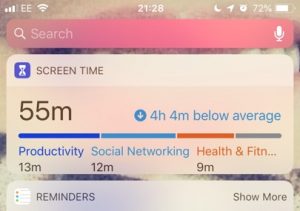 In our industry we talk a lot about screen breaks and spending too long online. This is nothing new. But for many of us we need to consciously work at better managing this issue for our own health and wellbeing and creativity.
by Darren Caveney and the Comms Unpluggers
So, I found myself at the top of the Lickey Hills looking out to the city skyline of the metropolis that is Birmingham, some 10 miles away in the distance, at 8am on a Sunday morning.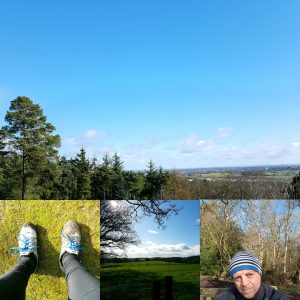 Why would you do that, you ask?
Good question. And the answer is two-fold.
Firstly, I have been giving out a lot of advice recently to people who I mentor and work closely with about the importance of taking lunch breaks and ideally with a walk in the fresh air.
We all know the importance of this for our mental health and wellbeing but I have a growing suspicion that fewer and fewer of us are doing this often enough. The benefits are multiple and proven. If nothing else it's where you'll have some clearer thinking time and the chance for your busy brain to fin a solution to a troubling problem. Even if you work in a city you don't have to look too far to find a pleasant green space so there isn't much of an excuse to be had.
Secondly, one of the core values behind Comms Unplugged is to spend less time online. I am fairly good at this now. But I do easily fall into bad habits when the work demands ramp up so I have to work at it.
March is proving to be a very busy month for me, with training, consultancy and workshops filling my weeks, and with some weekend working required to keep me on track I thought "practice what you preach" and switch off social media for a day. Sunday, in fact.
Hence my early morning trip to fresh air-filled Lickey Hills to reset and recharge.
I suggested (somewhat ironically via Whatsapp) that maybe some equally busy members of the Comms Unplugged group should try this too.
And many did.
Was it worth it?
For me, absolutely. And I was left wondering why I don't do it more often.
But let's see what my fellow Unpluggers made of it…
"Going social free for 24 hours with a few of my Comms Unplugged buddies was rather enlightening.  It really highlighted how much I reach for my phone – almost subconsciously and out of habit.  Pretty much as soon as I wake, almost any point I have a spot of downtime, I'm on it. For no particular reason other than "just to check". I even opened one or two apps automatically, only to quickly realise what I'd done and shut them back down, pronto! After a couple of hours, I remembered the Unplugged liberation of not feeling the need or the obligation to be online at every opportunity. I got on with my Sunday.  I did miss chat on WhatsApp, as I had included this in my temporary ban, but other than the chat I would've had on there, I missed nothing.  Literally nothing of use or value, or certainly nothing that couldn't wait until Monday morning. Many of us who took part have reflected – via WhatsApp!- on those 24hrs and all agree we'll be doing it again."
Georgia Turner, head of communications at Bournemouth, Christchurch and Poole Council
"I did such productive things on SocialFreeSunday – I got my sewing machine out again, after several years, and made a new skirt that I'm so proud of. I fought the urge to share it with the world…and won!"
Helena Hornby is communications officer at Transport for Greater Manchester
"I know that staying away from social media does me good – I delete all my apps when I go on holiday and feel so much more relaxed when I come home – but I struggle to stay away from it the rest of the year.
"So, when the Comms unplugged crew suggested the idea of 'social-free Sunday' I was in – knowing that I'd be part of a group doing the same thing helps me to stay committed.
"What I hadn't expected was just how much of a difference one day away would make. I decided to help myself a little bit and moved all the social media apps (including WhatsApp) off the front page of my phone and that definitely reduced the pressure – no red circles flagging notifications! And then I stepped away from the phone and got on with the rest of my life.
"By the end of the day I felt properly relaxed and present with my kids having been swimming, done some colouring and played a little carpet bowls. I nearly caved at bedtime and picked my phone up to have a sneaky peak – but was proud of myself for putting it down again and going to sleep instead!
"Now I'm thinking this could be the new way for me, especially as I picked my phone up on Monday and realised I really hadn't missed that much…"
Saranne Postans is director at Fresh Air Fridays Marketing Director
"After a week of feeling that rising panic you get when there are too many things in your brain, the suggestion of #socialfreeSunday was very welcome. And actually, I didn't miss anything other than WhatsApp really. I was aware how often I had the urge to check my phone, especially in the  morning – I mentally noted it. But that subsided throughout the day and pretty soon I had just left the thing – forgotten and unneeded – somewhere in the house. I walked the dog, read my book, listened to a podcast, went to the cinema, caught up on a bit of work (to calm my panic – I don't normally do that btw), cooked with my daughter and slept really well. Being without the reassuring and friendly banter of the unpluggers was the tricky bit – but for one day, it was doable. Being unplugged is good for you – fact!"
Sally Northeast is assistant director of communications and participation at Dorset Healthcare
"I'll be honest, I did not 100% switch off, but my screen time was less than 20% of what it normally is, and my social media minutes were barely out of single figures. Because I wasn't posting, my mind wasn't distracted, wondering whether I'd got any likes, shares or replies. I focused on my convalescing child, building Lego sets and playing helicopter chase around his bedroom (Jurassic World vs Mountain Police in case you're interested).  I love social media, and the endless possibilities of connecting with friends and contacts across the country, but it's refreshing to have a break every now and then. It's also important to me to set the right example to my son, so the discipline of having a set 'switch off' time brings that added dimension."
Josephine Graham is internal comms lead at Bradford Council
Want to be at the third annual Comms Unplugged event in beautiful Dorset and experience a completely different learning and development event?
Tickets for this not for profit event are on sale HERE
Darren Caveney is creator of comms2point0, owner of creative communicators ltd and co-organiser of Comms Unplugged
— Tuesday 19th March —