by Georgia Turner @GeorgiaTurner
When Sally, Darren and I decided, at last, to actually DO that thing we'd been sitting on for a couple of years, that thing that was to become Comms Unplugged, I had no idea how emotionally embedded I would become.
As a comms professional, I know all about the emotions and behaviours set out in the Kubler-Ross change curve. What I didn't bank on was the non-optional embarkation on the Turner-Northeast-Caveney 'Making-it-up-as-we-go-along' Event-circle. It goes something like this….
First up – Excitement. We were actually going to do it. This thing we had half-joked about but that, as an idea, kept nibbling away at us each individually "I'd be fab, don't let me go", it kept saying. So we didn't and now, OMG we're going to do this!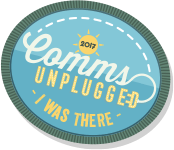 Enthusiasm. Enthusiasm for the reality that Comms Unplugged was going to become. For creating something completely from scratch. Finding a venue, researching various suppliers from marquee hire to catering, developing a brand, getting sponsors on board, thinking up speakers. Each job done gave way to three more, and each new task just boosted the enthusiasm further.
Inspiration. The ethos of Comms Unplugged I found inspiring. A chance to showcase Dorset – not just our glorious environment and our local food & drink producers (although researching those was fun, fun, fun!), but actually it was inspiring that our nugget of an idea was born in Dorset. I felt inspired to make the most of some local contacts that I was lucky enough to have and that I knew would make Comms Unplugged something really different: the energising narrative of Giles Henschel, the insight into lessons from the top from Matt Prosser. I even roped in my close friend Kerrie to teach Pilates and my weekly yoga class teacher Irena. Everyone I spoke to when inviting them to get involved seemed to share my excitement and enthusiasm, and were inspired to take part. Result!
Belief. In our idea and our concept. Staying true to that belief – showcasing Dorset, having fresh speakers that aren't on the traditional conference circuit, cutting out wifi and tech, building in a wellbeing element, camping! This belief that Comms Unplugged was new and different and worthwhile bred….
Confidence. Our slightly risky combo could have suppressed our confidence, led to doubt, was it really what people wanted? We didn't know, it had never quite been done before. But not once did I, or we, question the concept that we completely believed in. We were all absolutely confident it would be a success. Until we launched ticket sales…..
And that's when the anxiety kicked in. We were so confident, we'd absolutely believed we would sell 100 tickets, just like that. When that didn't happen, it was hugely stressful and completely baffling. Why aren't tickets flying out? Will we break even? What if no one comes after all? What if the whole idea is rubbish and we're the only ones who think it's not?
But Determination carried us through. However many tickets we sold, we were determined Comms Unplugged was to be an amazing experience for everyone who attended, whether that was the originally intended 100 delegates or, as it was, the 50 or so pioneering Unpluggers who eventually pitched up, literally, in that field. We began to concentrate on the little details – designing the programmes and signage, getting more money for our charities through selling tickets online, creating delegate packs that really captured the spirit of Comms Unplugged. It was going to happen and it was going to be great!
The morning arrived. Anticipation – IT'S TODAY! Marquees are going up! Photographer is on site! Darren is arriving soon! Oh God- delegates are actually HERE!!!!!! People are pitching tents and laughing and forming friendships. We've actually done it. Elation sets in!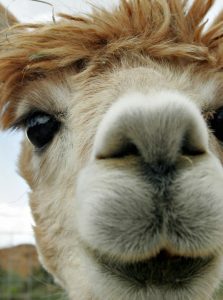 Love. Anyone who was there will know it, and will have felt it. The love in that field. For speakers and workshop leaders who gave us their time. All our Unpluggers for just believing in it. For embracing it and for truly making Comms Unplugged the experience it was, each of you adding something actually tangible, just by being there. You'll always be the original Unpluggers, the Class of 17.  No-one can take that away.  Big love for our helpers – raffle prize blaggers, merchandise researchers, entertainment bookers.  Thank you, thank you, thank you.  And sponsors – yes, for their £, but mainly for their openness to something new & untested and going with it. Love, love, love for Comms Unplugged and every single person there.  And love for alpacas (it's the ears).
And finally… Pride. I still can't believe that we did it. That Dorset delivered. That we are still chatting about it online. That feedback tells us people who were there were rewarded with professional development, with new ideas for their workplace, with time to focus on themselves and with new friendships and support networks.  That we HAD FUN!  And so the Turner-Northeast-Caveney event circle concludes. Except, being a circle, we're right back to where we started! Excited… ready to start planning Comms Unplugged 2018. Who's with us?
Georgia is Shared Head of Communications & Marketing for Bournemouth Borough Council and Borough of Poole.
— Wednesday 27th September —