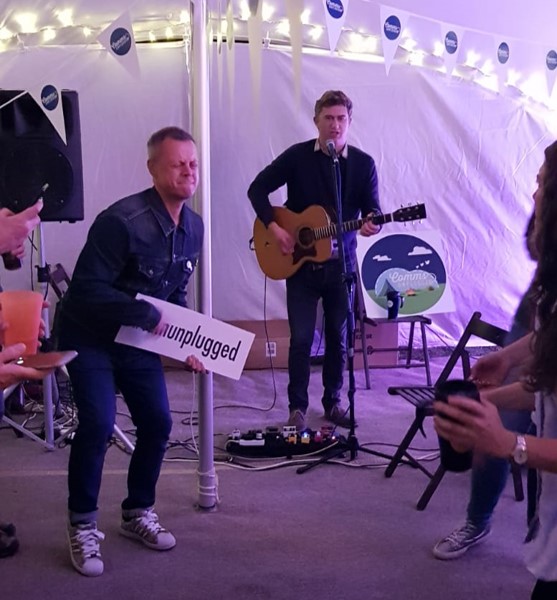 You know that feeling when you experience something truly special and the benefits go on and on and on?
by Darren Caveney
Now I'll apologise in advance if I have previously bored you about Comms Unplugged. Sorry, not sorry. And I might be about to do so again.
But give me a chance to say why I think I should.
Comms Unplugged 2019 was THE BEST comms event I have been to. Ever.
It's a full on feel good festival of learning, wellbeing and friendship. If CPD points are your thing then this event should break the bank
Where else could you go to an event that makes you…
laugh – think Chris Elias being butted whilst trying to feed a wild stag
cry – Jonny Benjamin's story was an emotional rollercoaster and truly inspiring (and I almost never use that word)
witness a standing ovation – Jonny Benjamin again (I have never seen one of those at an industry event)
see brand new friendships forming in the field – real ones, not fake Facebook friendships
dance – even some exceptionally bad Dad dancing from me
break out into spontaneous singing
experience wildlife – I saw a fire crest – the UK's smallest bird – a kestrel, a stag, a doe and dozens of rabbits
stay off social media for three days
listening so closely to speakers without the distraction of phones
walk a very cute cockapoo whilst her owner was in a yoga workshop
drink beer and eat Indian street food around a camp fire
raise 1200 quid for local charities
welcome attendees who drove to Dorset from Scotland. Wow, big respect.
make actual written notes on personal resilience top tips from the excellent Mark Funnell.
Post event benefits
Post-event there is a blooming Whatsapp group (yes, I realise the irony) sharing and caring and keeping those new friendships bubbling away
I've been a bit quiet on social media since and instead I've been reflecting upon what I learned –  even a week on realising new things about myself and others.
And I have gone into full hippy mode, eulogizing about the benefits and importance of fresh air, lunchtime walks and time away from screens to anyone who will listen. I am getting all preachy in my old age.
I even did it with a client on Tuesday. She didn't seem to mind.
Since returning from Comms Unplugged I have been to the gym, been walking, stayed off the booze, been for a sports massage and been eating plenty of really healthy grub.
Man, I must be an annoying wotsit to be around.
But I feel refreshed and good for it.
Comms Unplugged 2020 is already booked and in production.
I know I say this a lot but do everything you can to be there. I promise you'll love it.
It might even bring out the hippy in you
Darren Caveney is creator of comms2point0, owner of creative communicators ltd and a co-organiser of Comms Unplugged
— Friday 13th September —