By Sally Northeast
Isn't it funny how we talk about 'taking' time, like someone's got a big pot of it somewhere and we have to sneak over and steal some every now and then. You know what I mean:
"Sheesh, I've done over and above this week – I need to take back some time!"
"I need to take time to think it through."
"I'm going to take some much-needed me time."
With our very language we're making ourselves feel guilty about making use of time in the best way. But wouldn't it be so much more constructive, empowering and liberating to talk about 'giving' ourselves that time. Because, ultimately, it's ours to give. We own it, we make decisions about how we use it and – importantly – we give ourselves permission to do that.
What's this got to do with Comms Unplugged? Well for a start we much prefer giving (one of the five steps to wellbeing) – it feels so much better than taking, doesn't it? And at the heart of our ethos is helping professional communicators to give themselves valuable time and headspace. It's about investing in yourself and others around you – sharing and owning a completely different space and experience and switching things up a bit.
If you've joined us in our beautiful Dorset field over the last two years you'll know what to expect – or will you? Because while we're pretty confident in the format of this unusual event, as Forrest Gump's mama always said: "You never know what you're gonna get."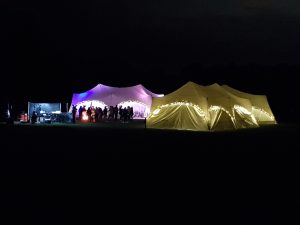 We bring you speakers and workshop leads who will shake up your thinking, offer you something new, inspire you to walk a different path now and then. They're not the people you often see on the comms conference circuit – and we guarantee you'll exit those marquees with the cogs whirring and the grey matter buzzing with ideas.
Just as importantly, we offer opportunities to explore ways you can take care of yourself – prioritise your wellbeing and learn how to re-balance. Whether it's a walk in the woods or across the heathland, gazing at the stars with no light pollution or trying out yoga – there are all sorts of activities to help you just relax and breathe. And your brilliant peers are all around you to just talk through all sorts of stuff – they'll often have similar experiences and maybe a new perspective on them too.
If you have a pathological dread of 'networking' – and many people do, we get it! – you have nothing to fear in the field. Because what you'll experience at Comms Unplugged goes way beyond the superficial passing conversations you might have at a standard industry conference. This event leads to real connections, friendships and, yes, being part of a community of like-minded folk. Relationships built in the field in 2017 and 2018 are thriving today – in chance or arranged meet-ups, on WhatsApp and through our CU on the air podcast. Our unpluggers are supporting each other every day, chatting about everything from work issues to walks, recipes to running.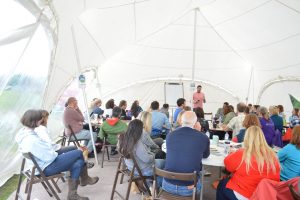 Spring symbolises beginnings and growth – perfect for starting something new and grabbing your Comms Unplugged ticket. Give yourself the gift of time and space for your development and wellbeing this autumn – your future self will love you for it!
Sally Northeast is Deputy Director of Organisational Development, Participation and Communications at Dorset HealthCare, a community and mental health NHS trust. She is a co-creator of Comms Unplugged along with Georgia Turner and Darren Caveney.
Comms Unplugged runs from 5-7 September at Burnbake campsite near Corfe Castle in beautiful Dorset. It's run not-for-profit – Sally, Georgia and Darren organise it in their spare time for the benefit of their industry.
A range of tickets are NOW ON SALE – 2-nighters, 1-nighters and day tickets. See our tickets page to find out what's included. #CUinthefield?
— Monday 4th March —