by Sally Northeast
For most of us work is a necessity and we spend an awful lot of time there (in fact it's around 80-90,000 hours across the average lifetime – that's a third of your life at work!*).
With numbers like that we really should be aiming to make our working life as happy and interesting as it can be. And yet many organisations seem to be heaping more and more pressure on, squeezing much of the joy out of our working days in the pursuit of providing or producing more with less.
As we mechanise and digitise as much as we possibly can, the bits that are left to be done by human beings require a magic ingredient that machines and technology haven't yet fully mastered – creativity.
Ideas and innovation, finding new ways to do stuff, inventing things…these are the skills that have helped us advance as far as we have. But we can only continue advancing and creating wonderful things if we give our brilliant brains the conditions and environment they need to do their best work.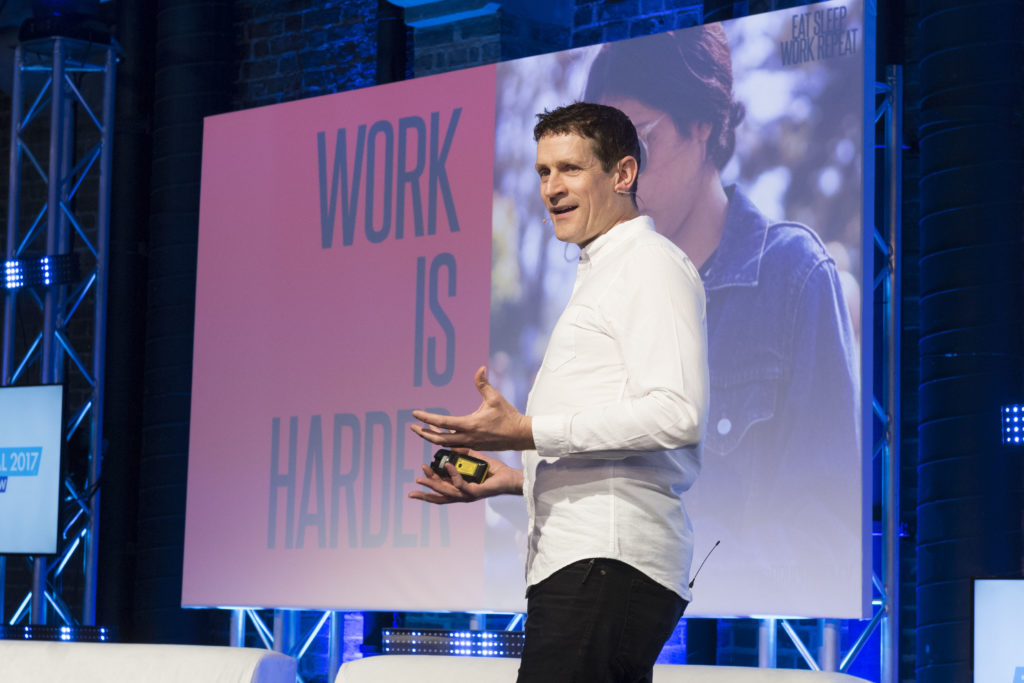 Enter Bruce Daisley. Now here's a man with an impressive work record – EMAP, YouTube, Google and Twitter, where until recently he was the Vice President for Europe, the Middle East and Africa. He's also the creator of the brilliant business podcast Eat, Sleep, Work, Repeat and the number one best-selling business book of 2019 The Joy of Work.
The book – which I genuinely think is required reading for anyone navigating the modern workplace – aims to help us 'fix work' with a series of common sense tactics and approaches all backed up by research and science.
Bruce is fascinated by workplace culture, an interest I share particularly since widening my portfolio from pure communications to organisational development and participation.
What's even better is that much of the very sensible but somehow forgotten things Bruce advocates for – lunch breaks, fewer meetings, psychological safety, fun with colleagues, finding ways to be creative and looking after your wellbeing – are things that totally chime with the ethos of Comms Unplugged.
Which is why, after some months of pursuit and social media banter, we are incredibly excited to announce that Bruce is the keynote speaker at CU20. He's set to inspire our field of #unpluggers with his knowledge, insight and tips, all presented in an engaging, accessible style. You can get a flavour by watching this session he did for the Market Research Society.
We're so grateful to Bruce for being part of our event – communicators play such a key role in helping create the culture of organisations that we know what he says will press all the right buttons. #CUinthefield Bruce!
*For some other fascinating working life stats here's an interesting infographic.
Tickets for Comms Unplugged 2020, which runs from 10-12 September at Burnbake campsite in Dorset, are ON SALE NOW.
Sally Northeast is one of the co-creators of Comms Unplugged and Deputy Director of Organisational Development, Participation and Communications at Dorset HealthCare University NHS Foundation Trust.
— Thursday 27th February —