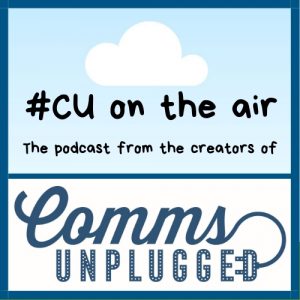 by Sally Northeast
As you may have noticed, we like to try new things here at #unplugged central. We often have crazy ideas and we just kind of go with it and make them happen (in fact, that's how Comms Unplugged started in the first place!).
So when I heard 2018 #unplugger Harriet Small being interviewed on a podcast I thought we should have a go at that too – and we did!
The first episode of 'CU on the air' was released into the world on Valentine's Day and one month on we're ready with the second episode.
It's an eclectic mix of clips from #teamunplugged, our #unpluggers and additional guests. There are work-related items and wellbeing tips, book reviews and sometimes even some music (listen to episode 1 to hear a song from our 2018 band Less Than Nine).
You can download CU on the Air on a range of podcast platforms or listen to it straight from Anchor, the app we use to create it.
If you're an unplugger past, present or future and you'd like to feature on the podcast email us on commsunplugged@gmail.com and tell us about your idea.
Sat hi on Twitter at @salzasal or @CommsUnplugged
— Wednesday 13th March —