"Taking a punt" is a phrase we have used a lot when describing our concept to our delegates and sponsors (now collectively known as "Unpluggers").  For those who weren't there or haven't heard of this inaugural event, Comms Unplugged is a conference for public sector communications folk, with a vibrant and refreshing programme of professional development sessions, that took place over two days in September in Dorset.  In marquees. With wellbeing sessions. In a field.  With no tech or wifi. Where delegates camped.  In actual tents.
The CIPR took a punt on us too, agreeing that any members who attended would earn 10 CPD points.  Along with our fresh and inspiring line-up of speakers and workshop leaders, that endorsement from a respected professional body gave our new event added credibility.
It was a challenge though, to convince some that this was work.  30% of our Unpluggers paid for their ticket themselves, because they didn't think their employer would regard their attendance as 'work'.  Being Comms Unplugged wasn't "a jolly", but a genuine CPD opportunity.  Assuming you agree that having fun whilst being inspired and learning are possible and indeed desirable concurrent states of play!
The similarities to a standard conference are all there if you need that to make it work for you or your boss.  We had a keynote address & workshops – not led by the tried-and-tested circuit presenters but by speakers who were different and new (that's a good thing, isn't it?).  We had evening networking & socialising – round a campfire under the stars instead of in an overpriced hotel bar; there was catering – fresh wood fired pizza prepared and cooked on site to order and devoured in the open.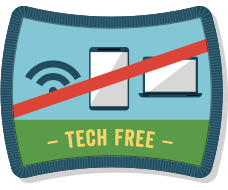 But for me and, I think it's fair to say all our Unpluggers, it was the things that were really different to a 'normal' conference that made Comms Unplugged so rewarding.  That brought added value to their experience. The two things that set Comms Unplugged apart as completely unique (aside from the camping, marquees and field!), the things that enhanced, encouraged and facilitated learning , were the absence of tech and wifi (no PowerPoint, no signal, no email, NO TWITTER!), and that around half the programme focussed on delegates' wellbeing (personally I'd rather meditate in the woods at 4pm than rush, stressed, for the train home, wondering if I'll get a seat or not).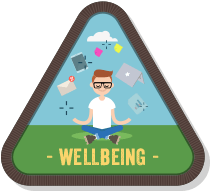 Not checking work emails or feeling the pressure to tweet a witty or insightful observation about the current speaker as quickly as possible was completely liberating.  Feeling uplifted and refreshed whilst taking time to reflect on life professionally and personally, through or wonderful Fresh Air Fridays wellbeing sessions, gave many delegates a new and more positive outlook on their working lives.  We all spoke to each other.  Listened to each other.  Made great and genuine connections. Laughed AND learned concurrently.
91% of those who came say they have gained something they will use professionally. The insights behind that stat go something like this:
"I really liked not hearing from 'comms people' – they were people who understood the power of good communication, but weren't in the job as such. It was refreshing."

"Really feel like I took more away than I usually do from a conference. Excellent speakers, v on point."

"The workshops were highly interactive, which was brilliant."

"I liked the fact that some of the sessions talked about digital, but in an analogue session. And I wasn't thinking about what to tweet during the sessions. I was fully in the moment."

"I loved that I very quickly recognised people from the comms community online.  For me, the power of social media to bring like-minded people together and then the juxtaposition of us all unplugging from the thing that had brought us to the field, was fantastic. It couldn't have been any better. It surpassed my expectations."

"I think when you challenge Comms people to be creative outside of the proverbial box, you get something really special. At a times when public sector is under such pressure, this is a timely message."
When asked what they and their employer has gained from them being at Comms Unplugged, this is what people have told us:
"I came back feeling energised and empowered. I feel like I can do my job better thanks to this."

"An absolute ton of knowledge and techniques, a genuine network of talented professionals and a much more enthusiastic me."

"I've come back refreshed. I was wading through treacle before going. It's been a real pick-me-up and put me back on track."

"I've returned refuelled and reinvigorated, which is contagious."
My final reflection on Comms Unplugged is about those connections I mentioned.  The absence of technology, and emphasis on delegates taking time to focus on themselves, somehow created a sense of community in that field that was tangible.  It's enduring still, and will carry through to our 2018 event – where we hope to grow our community and welcome more Unpluggers to our Dorset field for more learning, CPD, fresh air and personal discovery.
And really finally, my most loved feedback comments is simply this:
"My fave thing about Comms Unplugged was Comms Unplugged."
If you want to boost your CPD and guarantee yourself a place in the Comms Unplugged field in 2018, stay up to date at:
Twitter @CommsUnplugged
Facebook @CommsUnplugged
Instagram @CommsUnplugged
Georgia Turner (@georgiaturner) is Shared Head of Communications & Marketing for Bournemouth Borough Council and Borough of Poole, and A co-creator of Comms Unplugged with Sally Northeast (@salzasal) and Darren Caveney (@darrencaveney)
— Friday 29th September —