by @darrencaveney
In the run up to the second Comms Unplugged I keenly told anyone who would listen to me drone on that it was more than just an event – it was an experience. And so post-event, whilst I still think that is a true, I was actually wrong.
Comms Unplugged is now officially a MOVEMENT.
The dedicated WhatsApp group has been on fire with Unplugged chat since we all returned, and Twitter will be buzzing too, as soon as we are all fully plugged back in on Monday.
Multiple posts from attendees, organisers and sponsors will appear here over the coming days and weeks, many of them by more skilful writers than me. Hopefully they will endorse my bold statement.
There are so many highlights that one post truly isn't enough so I'll pen several.
Now whilst I am a co-organiser of Comms Unplugged I personally benefitted from the learning and wellbeing benefits littered across the three days and two nights too…
I laughed
I talked
I saw
I listened
I drew
I recorded
I learned
I met
I breathed
I relaxed
I thought
and I thanked
Talking of which, a big thank you to our lovely sponsors Alive with Ideas, Perago-Wales, Fresh Air Fridays, dxw and comms2point0, well, me 🙂  Comms Unplugged is a not for profit event and so your support is vital and genuinely appreciated.
A quick word about my fellow organisers, Sally Northeast and Georgia Turner. Two lovelier, more talented and passionate people you won't meet. They put their heart and soul into Comms Unplugged and it shows. They also work damned hard to make sure it's a success. Most of my own work is done as a solo consultant and I can hand on heart say it is a pleasure and an honour to be on their team.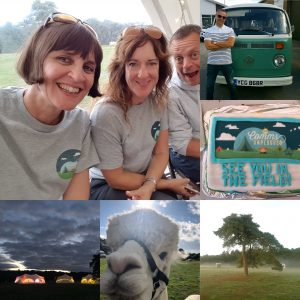 Finally… I told many a wavering comms person that Comms Unplugged would be the most fun work thing they would do in 2018. To those who went – was I right?
To those who didn't try and get yourself there in 2019 because you'll not just have tremendous fun and develop professionally and personally.
But you will join an actual movement.
See you in our field next year.
Darren is creator of comms2point0 and owner of creative communicators ltd
— Sunday 16th September —