For a week I've been wanting to blog about Comms Unplugged, the comms conference/wellbeing event I co-created with the most excellent Georgia Turner and Darren Caveney. I've even started writing a couple of times in the seven days since we left our idyllic field in the beautiful Purbeck hills in my home county of Dorset. But every time I made an attempt I realised I just wasn't ready.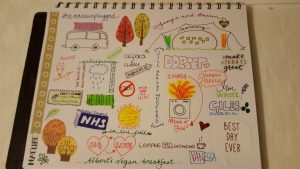 That sounds a bit bonkers, especially for an ex-journo like me who normally has no problem finding the right words. During the run-up to Comms Unplugged I was blogging, emailing, tweeting and Facebooking like a demon to drum up interest in a new and rather quirky concept. So why was I suddenly unable to string a coherent sentence together about something that had pretty much taken over my spare time?
The answer? Well, to be frank, I was a bit of an emotional wreck. While Georgia, Darren and I knew – yes, KNEW – that this was a great idea and that we'd organised something a little bit fabulous, I don't think I realised how emotionally invested I'd become.
As most comms folk who've organised an event will know, there's a helluva lot to do. Comms Unplugged felt like a little cottage industry. Three pretty senior, very experienced comms practitioners were hooked into every little bit of this venture. We had no budget – it was all about sponsor and ticket sales income. We were kind of making it up as we went along and – despite the three of us only meeting up once in the 72 days we gave ourselves to pull it off – we built the strongest, most positive and can-do little team. Soon we had a few more helpers from the comms community all pitching in too.
I had no team to help me assemble goodie bags – so I roped my daughters in and we stuck on stickers and packed mementos ourselves. And all the time Team Unplugged was promoting it like mad, getting a brilliant buzz going on Twitter which backed up our conviction that this was going to fly.
When ticket sales were disappointing we started to wonder if we'd got it a bit wrong – but we never once thought we'd cancel. We knew we had to make it happen and keep working hard on something we believed in. We downsized marquees, reduced catering orders and basically cut our cloth. The people who'd signed up were getting excited in social media and finally I pitched up (pun intended) in the field to welcome our marquee guys.
Despite being exhausted from organising a huge event for work the day before, I had a special feeling about how things would go the minute I reached the field. Everything looked just like our brilliant brand by Alive with Ideas – that vision was literally coming to life in front of our eyes.
Meeting people you only know from Twitter is generally a bit strange but as our delegates arrived we almost immediately felt like old friends. We'd taken a punt on organising something different and these people had bought into it. They believed in it too, even if they didn't yet know how it was going to pan out.
What happened at the Burnbake campsite was nothing short of spiritual in my view. I know, how can I be spurting out such New Age claptrap in this day and age? It was just a conference wasn't it?
Well – that's why it's taken me so long to write this. It wasn't just a conference. What developed in the field was a community – I heard people say it several times. And I just didn't expect that. I haven't experienced that kind of connection at a professional event before. We connected with each other, with our surroundings, with ourselves actually, particularly in the Fresh Air Fridays wellbeing sessions. We breathed fresh air, looked around us, listened without having to communicate onwards to the outside world. We were all present, engaged, inspired and motivated.
Making connections with people is what a communicator's job is – or should be – all about. And yet often we're so busy we end up just doing the old SOS – sending out stuff. This isn't fulfilling or particularly effective and leads to frustration, demotivation and burn-out. I think what Comms Unplugged may have done was remind the people who were there what it feels like to make real, in-the-moment connections.
I'm bursting with pride to have been involved in such an uplifting experience. It was hard work for those of us who organised it but I know we got as much out of it as the delegates. We've made some fab new friends and experienced some things together that you just don't get through normal work networks. I'm also proud to have been able to showcase my wonderful county to people who didn't know it before.
So a few learning points from organising Comms Unplugged:
You have more time and energy than you think – you can make things happen
If you build it, they will come
People are brilliant – get to know them
Look after your wellbeing – without it life is pretty rubbish
Being part of a tribe is the best thing
Life's a balancing act – if things feel off you need to recalibrate
Looking forward to unplugging again in 2018….if not before
Check out our Flickr page to see more about life in the field.
If you were there you can also join our WhatsApp group by messaging your number to Anna Maclean. If you'd like to tell others your thoughts about your time in the field email us at commsunplugged@gmail.com and we'll share the love.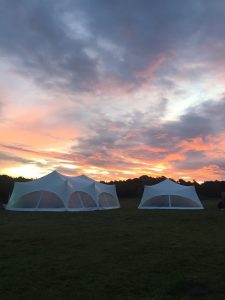 — Sunday 24th September —