by @darrencaveney
One of the – too many to mention – highlights of Comms Unplugged 2018 was the workshop Alan Oram, creative director of Alive with Ideas, ran to inspire and recharge our thinking around internal comms strategy and delivery.
Nicely pitched as 'Sparkling Internal Comms' – and isn't that a great objective for any internal team to set itself – opened up with one of the best opening group question exercises I've ever heard: "What makes work a shitty place to be?"
The marquee, packed with comms people from across the UK, were falling over themselves to give a view. It was cathartic and it was brilliant. But it also teed up perfectly the rest of the workshop and its exercises.
I was on 'note drawing' duty. I've never done it before and I don't claim to be a pro at it. But I'll tell you this – hand drawing notes is a terrific way to stay focussed, listen and learn.
So here goes…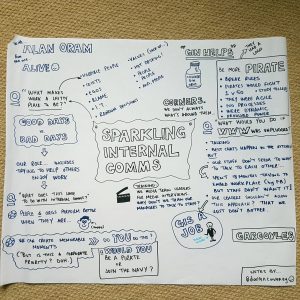 So next time you're looking at ways to improve your internal comms try being a bit more pirate 🙂
Darren is creator of comms2point0 and owner of creative communicators ltd
— Sunday 16th September —