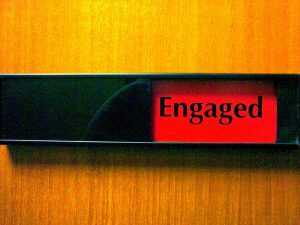 At the heart of being a communicator is knowing how to engage with people – we persuade, we negotiate, we cajole, we explain and, most importantly, we listen. As we all know, human interaction isn't about just broadcasting – it's two-way.
The fascinating thing about it is that you just never know what's going on in another person's head. They could be carrying round a whole load of beliefs, experiences, issues and, well, baggage, that you know nothing about. It will colour the way they behave and the way they interact with you.
And thereby hangs the tale/tail of the communicator: struggling to convey messages on behalf of their organisation to both staff and external audiences without having the slightest idea about what's going on in people's heads.
But we love it, don't we? We wouldn't be doing this job if we didn't enjoy a challenge. So good people skills are right at the heart of what we do. A bit of psychology here, a bit of nudge theory there, a sprinkling of telepathy to go with the 'magic dust' we inevitably bring to the table.
We're looking to bring people with us and harness all that positive people power to make things better for everyone. When we're communicating with staff we're hoping it'll help them commit to our organisation, its ethos and values – its brand (see Georgia's post on brand authenticity). When we're communicating with our stakeholders we want them to know that we're ready to work collaboratively, that we're their partners on the journey and good team players. And when we're communicating with the public we want them to know we're providing the services (or products) they need, we're listening to them and we need their feedback to make things better.
Bringing out the best in people – inspiring them, giving them confidence in you and your organisation, persuading them to be part of something – is a skill we all need to develop and continue building on throughout our careers.
At Comms Unplugged we'll be welcoming Gary Langton to lead a workshop on this very topic. With 40 years of experience in the heavy building materials industry, he may be an unexpected facilitator at a communications event. But Gary really gets people and he's had to deal with everyone from stroppy JCB drivers to incandescent parish councils protesting about new quarrying operations.
He's insightful, straight-talking and funny and has a fearlessness that can only come from dealing with unexploded World War 2 bombs dredged up from the Thames. He'll challenge you to think differently about how you can make all those human relationships work better, harnessing people power to work collaboratively. If anyone can help you 'build' the skills you need (pun intended) it's Gary. Don't miss this little slice of East End wisdom.
By Sally Northeast
@salzasal
— Tuesday 22nd August —