Wellbeing is one of those words that can unfortunately provoke scepticism in some – it's a buzzword, something a bit 'New Age', a glib attempt to capture a whole lot of stuff in one handy descriptor.
But when it comes down to it, what it's about is feeling well – in body and in mind. Very simple to say but actually really difficult to do in a world that operates at an often alarming pace. Surely we all want to feel well and surely we all know what we need to do to achieve that?
Again – not simple. Because while most of us do actually know at least the basics of staying well, we probably don't give them the time they need. We don't stop for long enough to notice at an early stage when our wellbeing is taking a knock. By the time the full-on physical or mental health symptoms start rearing their heads we've got a bigger job on our hands to regain our balance.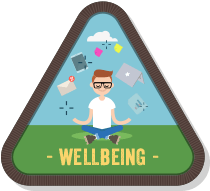 Not being well has an effect on all aspects of life, including our work. And if your work involves, for example, looking after others – like the NHS – how can you do that if you're not looking after yourself? A couple of years ago NHS chief executive Simon Stevens announced a £5m programme to support staff to stay well. The estimated cost of NHS staff absence was then £2.4bn a year – before you even count the cost of agency cover.
According to NICE (National Institute for Health and Care Excellence) sickness absence costs the UK Economy as a whole £15bn a year so improving wellbeing of our workforce is a universal priority.
The numbers certainly stack up but it's not just about that. To make the most of our lives and to do the best job we can we need to stay well, and for longer. Communications, PR and journalism-related careers feature four times in the Forbes 2017 list of the 10 most stressful jobs.
This September's Comms Unplugged event has wellbeing at its heart. We're embracing the five steps to wellbeing and trying to weave them into all aspects of the two days. We want you to have some time out to notice how you're feeling, do something different and find ways to stay well. If you come away having done all of these we'll be very pleased:
– Connect
– Be active
– Keep learning
– Give
– Take notice
And we hope you'll also take back some good practice and inspiration for supporting colleagues across your organisations in improving their wellbeing. Communications is central to rolling out wellbeing initiatives which support staff, help change culture and help people to feel valued. Activities like yoga, Pilates, woodland walks, the 'vent tent' and giving to charities will all contribute.
It's a heady mix – and you're worth it.
By Sally Northeast
@salzasal
— Friday 18th August —