CU Taster event – Wales
£10.00
13 in stock
Description
Waterside Felindre, Ty Blaenant Ddu,  Felindre,  Swansea  SA5 7ND
Friday 17 May, 10:30 – 12:30 Registration from 10:00
In 2018 we ran our first taster event to help people understand how being outdoors, unplugging from your phone and connecting with like-minded peers from your own line of work can have real benefits. Now we're spreading the idea around the country, giving you the time and space to quiet your mind and switch off the day-to-day 'noise' of life. This will help you to see things differently and focus on solving an issue you bring with you. Getting to know your fellow attendees and working together to support each other, you'll get a real feel for what our kind of 'unplugging' is all about.
Waterside Felindre is quiet and peaceful, set in a private, natural valley overlooking a lake just 3 miles from the motorway, north of Swansea. It's also home to a herd of alpacas and an amazing array of wildlife and trees. We'll be starting off in the Long Room, a large, comfortable, self-contained log building with panoramic views across the valley, before using some of our time together to explore the valley which is the site of a former Victorian reservoir – the Blaenant Ddu.
Your hosts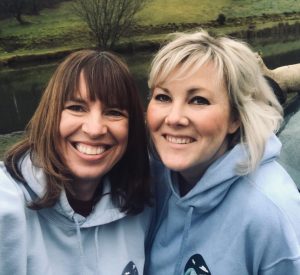 Emma Northcote (right) is Head of Corporate Communications at Dyfed-Powys Police. She has worked in policing for the last 18 years. This time has been spent predominantly in corporate communications, with a long stint in organisational development sandwiched in the middle. Emma is passionate about people centred communications, geeks out on data and is a 'Mind Blue Light Champion'.
Victoria Ford (left) is a Director at Perago-Wales. With over 15 years senior level experience of communication, engagement and change in the public sector, Victoria has led large operational areas, set up and run change functions and led an award-winning communication team. An experienced communication and engagement professional, Victoria brings focus to organisational strategy and puts people and culture at the centre of complex change.
Travel and parking
Free parking is available at the venue which is just 3 miles off the M4 motorway north of Swansea (junction 46).