CU Taster event – North
£10.00
9 in stock
Description
Visitor Centre, Hollingworth Lake Country Park, near Rochdale OL15 0AQ
17 May 2019, 10.30-12.30 (registration from 10:00)
http://www.visitrochdale.com/rochdale-all/where-to-go/hollingworth-lake-country-park-and-visitor-centre-p85031
In 2018 we ran our first taster event to help people understand how being outdoors, unplugging from your phone and connecting with like-minded peers from your own line of work can have real benefits. Now we're spreading the idea around the country, giving you the time and space to quiet your mind and switch off the day-to-day 'noise' of life. This will help you to see things differently and focus on solving an issue you bring with you. Getting to know your fellow attendees and working together to support each other, you'll get a real feel for what our kind of 'unplugging' is all about.
Hollingworth Lake, a former reservoir, offers nature walks, bird watching, tree-spotting and a breath of fresh air. The visitor centre, where our session will begin, is a welcoming spot with a lovely café and small exhibition explaining the flora and fauna of the local area.
Your hosts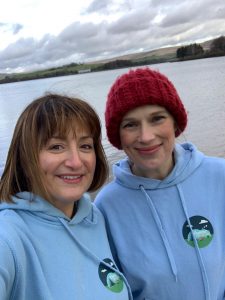 Helena Hornby (left) is a communications officer at Transport for Greater Manchester. Helena considers herself a newbie to the communications profession, but she's been at it for over ten years in some way, shape or form! With a background in the environmental sector, she started her career doing community engagement with people living in flood risk areas. This led to an assignment with the Communications Team and a passion for comms that has a real, positive impact on people's lives. A seasoned performer, Lancashire lass Helena is a sax player and singer in various bands in the North West. She's also a gin aficionado,  prolific baker and self-confessed FOMO queen. Find Helena on Twitter and instagram @HelenaHellie
Josephine Graham (right) is a marketing and communications officer at Bradford Council with almost 15 years' experience in communications and marketing in both the public and private sectors. She is a CIPR Yorkshire and Lincolnshire committee member and a committed life-long learner. Josephine is also a qualified yoga instructor, a mother and has performed stand up comedy on stage. At least two of the above skills and experiences may prove  useful for delivering the unplugged taster session. Connect with Josephine on Twitter (@iojosy) and on LinkedIn.
Helena and Josephine were the first two people to sign up for Comms Unplugged 2017, 2018 and 2019 and they are two of our strongest advocates. They loved it so much they are now part of the team, helping to bring the experience to would-be unpluggers around the country.
Travel and parking
Hollingworth Lake Country Park is easily accessible by car, being close to J21 of the M62. It is well-signposted as you drive around the lake to reach the visitor centre. Park at the visitor centre car park – it's just £2 for 4 hours (cash or contactless).
You can also take the train from Leeds, Huddersfield or Manchester, travelling to Smithy Bridge train station, just a few minutes' walk from the park.